BugMD's 30-Day Satisfaction Guarantee
Order Squito Stickers now and save 50% off the regular price, while this offer is still available. Once your package arrives, try-out your stickers for 30 days. If you're not 100% satisfied with the results, don't worry! Simply contact our Customer Support Team by email at support@getbugmd.com or by phone, toll-free, at 1-(949)-502-0148 and one of our agents will handle your return — no questions asked.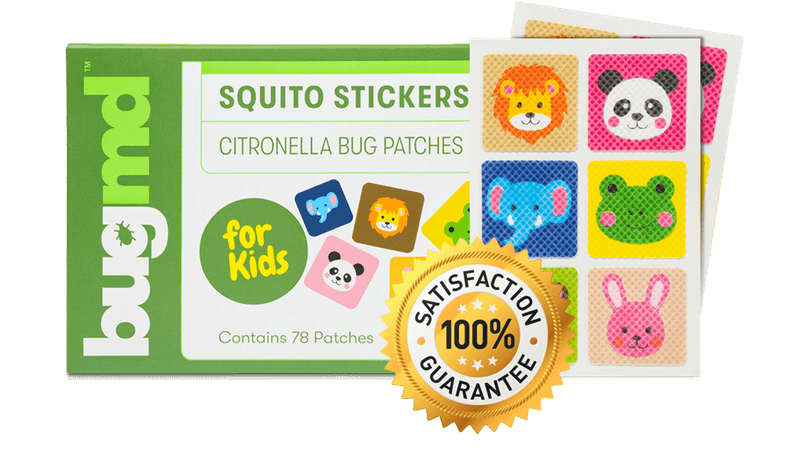 How Do Squito Stickers Work?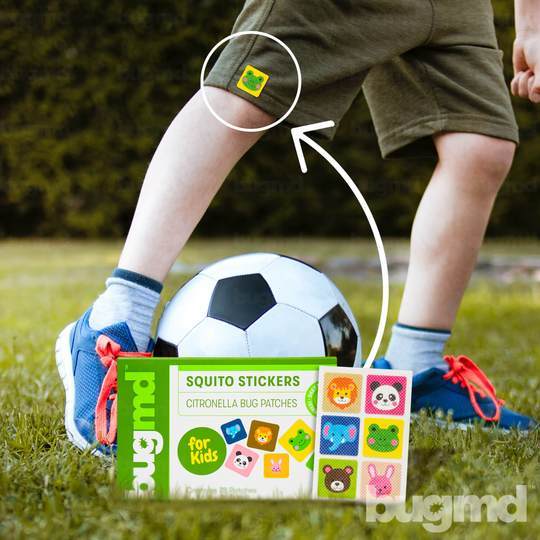 The secret is 100% plant-derived Citronella Oil: a powerful yet safe repellant that's proven to keep mosquitoes away for up to 72 hours. Squito Sticker's unique "nano-capsule" technology slowly releases Citronella vapors for sustained mosquito protection. According to the EPA, citronella oil is completely safe, even for children and pets.1
A recent study at UCR found that Citronella Oil contains compounds that block the sense of smell of nearby mosquitoes.2 This disorients their tracking abilities, making you virtually undetectable.
Simple, Portable, & Safe
With Squito Stickers, it's quick and easy to set-up your own personal "mosquito-proof" zone anywhere. Simply peel a patch from the sheet and place it on any surface — clothes, hats, bags, strollers, tents — or directly on your skin.
Each pack of Squito Stickers contains 78 patches, so you can enjoy months of bite-free outdoor activities!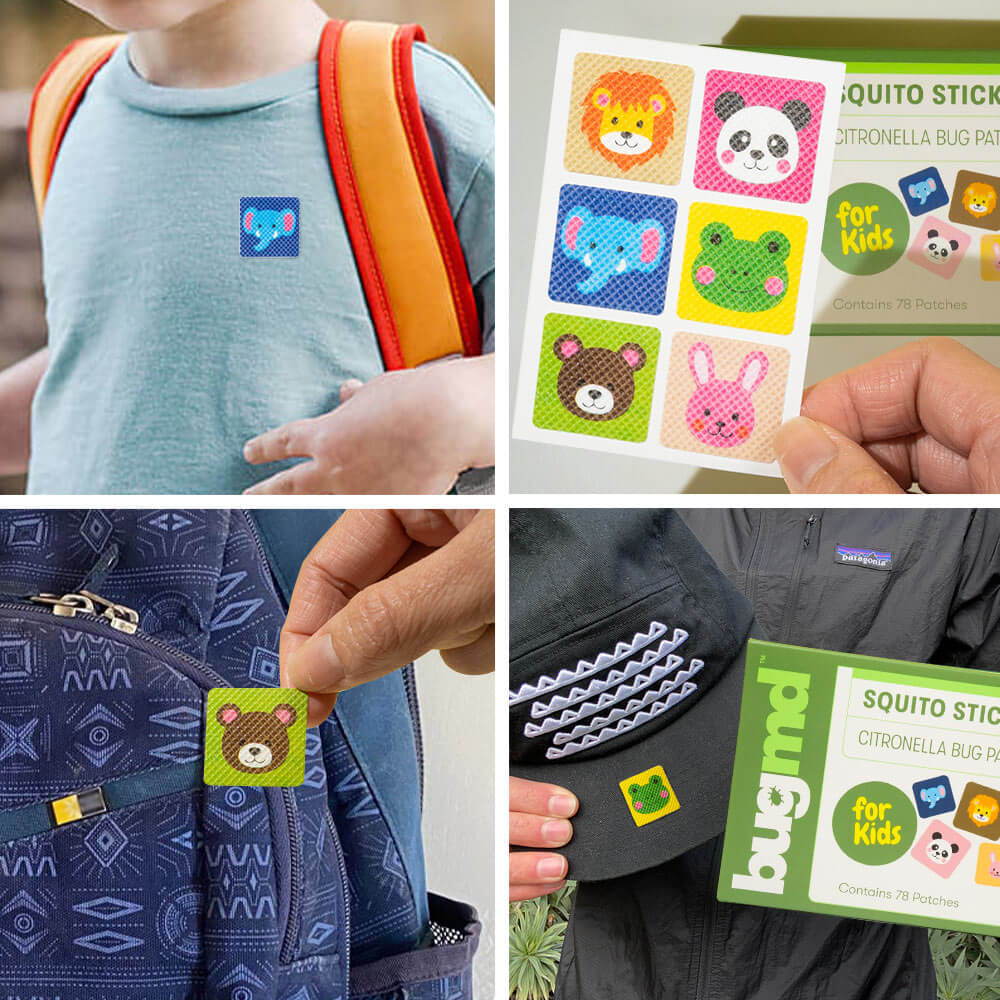 100% Chemical-Free


Safe for people and pets



Convenient & Long-lasting


Easy-stick patches give you 72 hours of mosquito protection



Mess-Free + Pleasant Scent


No greasy residue or harsh chemical scent



30-Day Guarantee On All Purchases!

Here's What Real BugMD Customers Have To Say:
These stickers are the real deal. I'm severely allergic to mosquito bites. One bite turns into a swollen, painful bruise. I don't dare go outside during the summer as I get enough bites inside anyway. I've tried every repellent out there but decided to give these a shot. I'm shocked… I've been using them for a month and so far not a single bite. Highly recommend.
— Ryan B.
I have two little ones and bug protection is always a challenge. Most bug sprays on the market aren't even safe for adults let alone kids… But the thought of them getting some kind of disease is even worse. When I saw these stickers I knew I had to try them. So far so good! My kids love the designs and they stay bite-free. I'm a happy mama.
— Kathryn W.
Total game changers. These things rock. I live in Missouri where there's literally clouds of mosquitoes during the summertime. I stick these babies on me whenever I go out and the mosquitoes literally get out of my way! LOVE THEM.
— Paige T.
Here's Why

Squito Sticker
Are The Only
Mosquito
Solution You Need:
All-Natural, Potent Plant-Based Ingredients

Squito Stickers use only 100% Citronella Oil: a naturally-derived essential oil that works as a powerful, bug repellent.

No Risky Chemicals

Squito Sticker's formula has no DEET, formaldehyde, or any other risky chemicals.
Safe Around People & Pets

Squito Sticker's portable, no-contact design makes it ideal to use around beloved pets and little ones, especially while "on-the-go."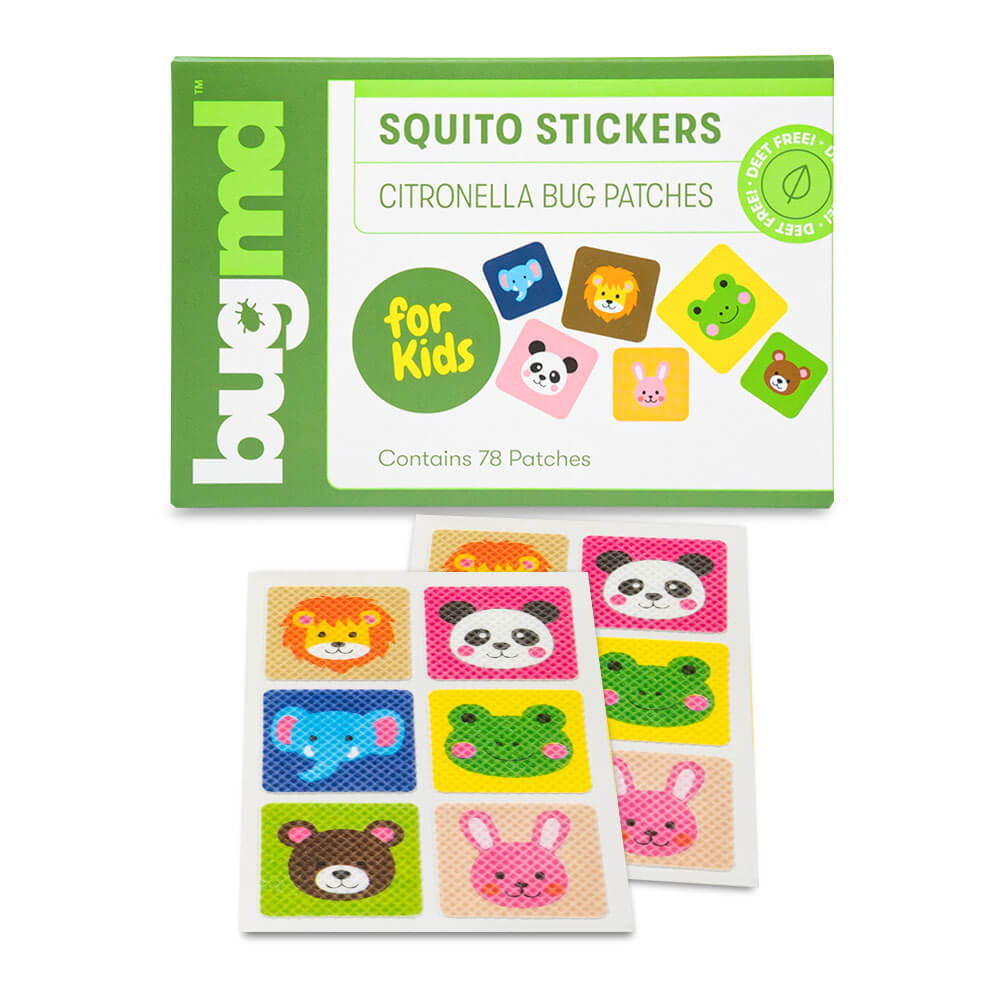 No Skin Contact Necessary

Ditch the toxic bug sprays! Squito Stickers securely adhere to clothing, hats, strollers, beach chairs, and more for hassle-free insect protection.
Designed in the USA

All BugMD products are proudly designed at our lab in southern California!
Safe to spray on garden vegetables

Enjoy days of mosquito protection whether you're camping or lounging on the porch at home.
Frequently Asked Questions
What are Squito Stickers?
Protect yourself from pesky mosquitoes with BugMD's Squito Stickers! Our easy to use mosquito repellent patches are free from DEET or other harmful chemicals and are formulated with pure Citronella Oil, proven to naturally repel mosquitoes. With an easy-stick adhesive backing, Squito Stickers are perfect for pool days, camping, or any other outdoor and indoor activities.
To use Squito Stickers, simply peel a patch and stick it onto any surface: clothes, bags, hats, tents, etc. The non-woven nylon fabric will slowly and continually release Citronella Oils to deter pests. No skin contact is necessary, but Squito Stickers are also safe enough to apply directly to your skin. Each sticker lasts for up to 72 hours.
What Are The Ingredients In Squito Stickers?
BugMD uses only ingredients that are safe for you and the environment. That's why Squito Stickers contain only 100% natural Citronella Oil — no toxic chemicals or insecticides, so it's safe for you and your family.
How often should I change the Squito Sticker?
Each Squito Sticker can give you up to 72 hours of protection. You may change your sticker every 72 hours or if the sticker accidentally gets wet or torn.
What is the resealable pouch for?
Squito Stickers come in resealable pouches to ensure freshness and protection. Always make sure to reseal the pouch after each use to maintain the efficacy of our product.
How many stickers does each pack contain?
Each sticker sheet comes with 6 Squito Stickers in individual pouches and each box contains 13 sheets. (A total of 78 stickers per box.)
How long does it take for BugMD Squito Stickers to arrive

All U.S. orders ship in 5-8 business days from our warehouse!
Sources:
1. United States, Congress, Environmental Protection And Toxic Substances . R.E.D. FACTS Oil of Citronella, Agency(7508W), 1997.Bond, C.; Buhl, K.;
2. Stone, D. 2013. Citronella General Fact Sheet; National Pesticide Information Center, Oregon State University Extension Services.