BugMD's 30-Day Satisfaction Guarantee
If you're not satisfied with your BugMD product, simply contact our Customer Support Team within 30 day of purchase. One of our dedicated agents will handle your return. Just pay a small processing fee and return shipping for returns/exchanges.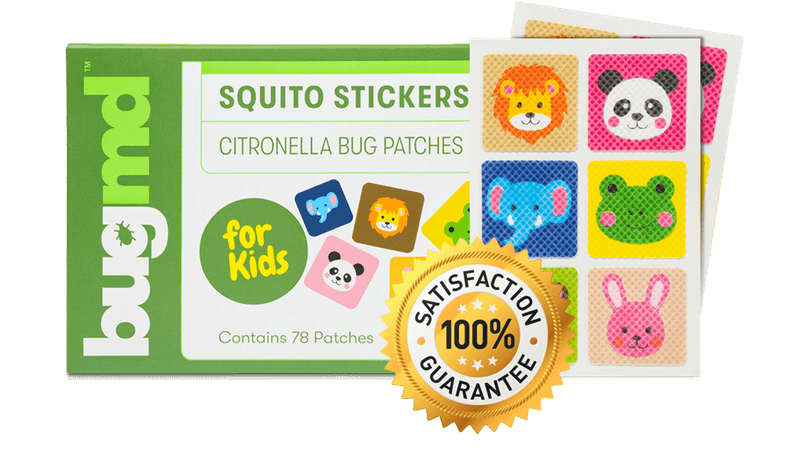 How Do Squito Stickers Work?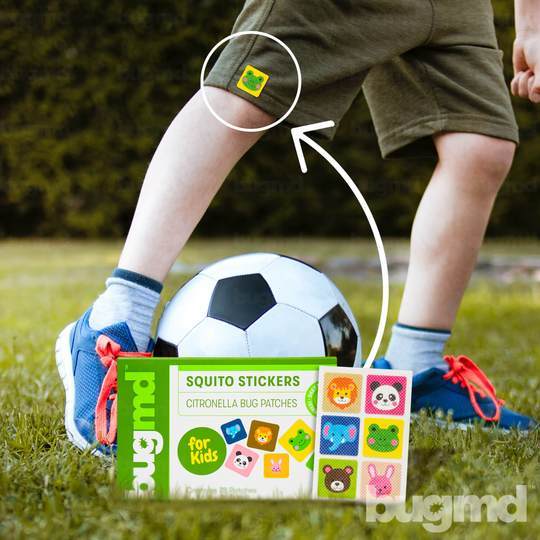 The secret is 100% plant-derived Citronella Oil: a powerful yet safe repellant that's proven to keep mosquitoes away for up to 72 hours. Squito Sticker's unique "nano-capsule" technology slowly releases Citronella vapors for sustained mosquito protection. According to the EPA, citronella oil is completely safe, even for children and pets.1
A recent study at UCR found that Citronella Oil contains compounds that block the sense of smell of nearby mosquitoes.2 This disorients their tracking abilities, making you virtually undetectable.
Here's What Real BugMD Customers Have To Say:
These stickers are the real deal. I'm severely allergic to mosquito bites. One bite turns into a swollen, painful bruise. I don't dare go outside during the summer as I get enough bites inside anyway. I've tried every repellent out there but decided to give these a shot. I'm shocked… I've been using them for a month and so far not a single bite. Highly recommend.
— Ryan B.
I have two little ones and bug protection is always a challenge. Most bug sprays on the market aren't even safe for adults let alone kids… But the thought of them getting some kind of disease is even worse. When I saw these stickers I knew I had to try them. So far so good! My kids love the designs and they stay bite-free. I'm a happy mama.
— Kathryn W.
Total game changers. These things rock. I live in Missouri where there's literally clouds of mosquitoes during the summertime. I stick these babies on me whenever I go out and the mosquitoes literally get out of my way! LOVE THEM.
— Paige T.
Here's Why

Squito Sticker
Are The Only
Mosquito
Solution You Need:
Made with Natural Citronella Oil

Each Squito Sticker is expertly formulated with a potent dose of 100% Citronella Oil. This powerful mosquito repellent comes straight from Mother Nature and offers long-lasting protection.

No Risky Chemicals

Squito Stickers doesn't contain a single chemical. There's no DEET, formaldehyde, or any other synthetic ingredient. So, you can rest easy knowing they're completely safe for the entire family.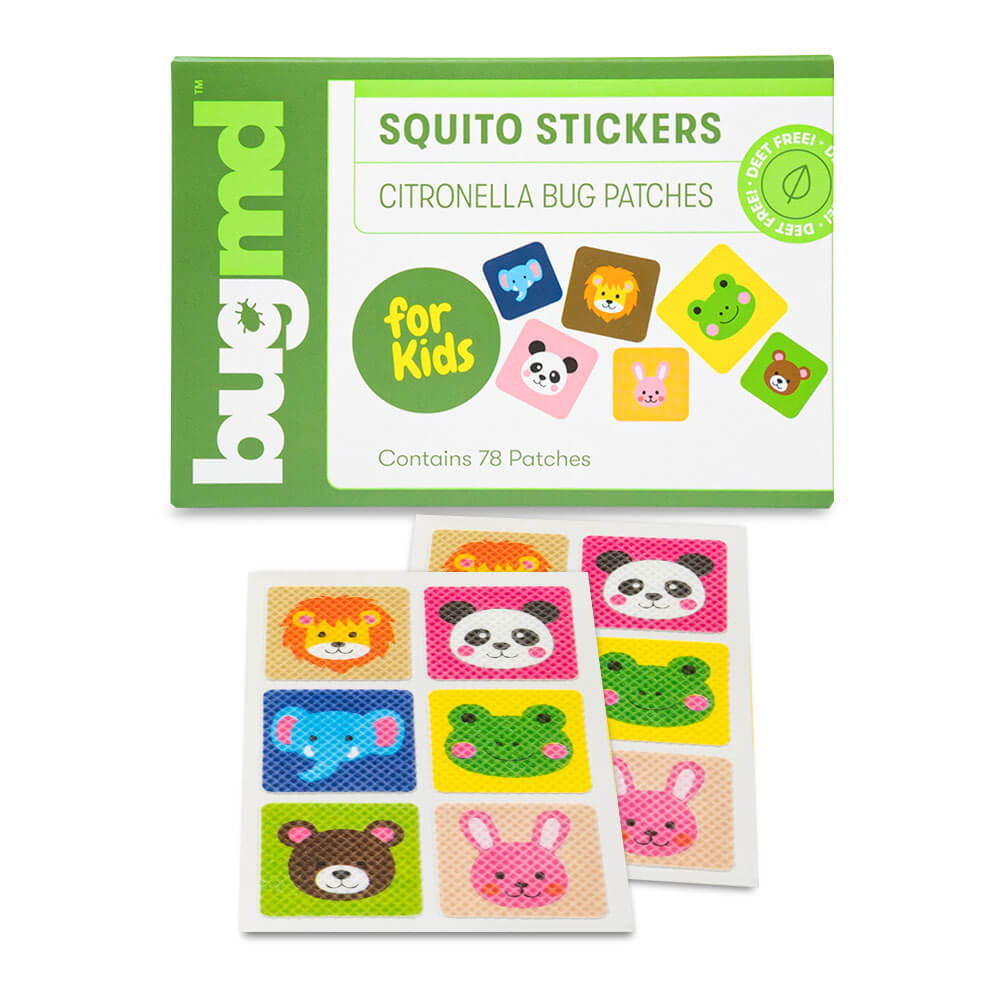 See a nasty mosquito in the house? Just apply a Squito Sticker for some extra indoor protection. Of course, they're also perfect for pool days, camping, hiking, BBQs, traveling, or any other outdoor activity.
Up to 72-Hours of Long-Lasting Protection

Enjoy day and night protection that lasts up to 72 hours. So, there's no need for constant and annoying reapplication!
Frequently Asked Questions
What are Squito Stickers?
Protect yourself from pesky mosquitoes with BugMD's Squito Stickers! Our easy to use mosquito repellent patches are free from DEET or other harmful chemicals and are formulated with pure Citronella Oil, proven to naturally repel mosquitoes. With an easy-stick adhesive backing, Squito Stickers are perfect for pool days, camping, or any other outdoor and indoor activities.
How do I apply a Squito Sticker?
Simply peel a sticker off the sheet and apply it to any clean surface: clothes, bags, hats, and tents are great options. Squito Stickers are also safe to apply directly to your skin. The non-woven nylon fabric slowly releases Citronella Oil to deter any mosquitos in the area for up to 72 hours.
What Are The Ingredients In Squito Stickers?
Squito Stickers contain only 100% natural Citronella Oil. In other words, there are no chemicals or insecticides. They're completely safe for you and your family.
How often should I change the Squito Sticker?
Each Squito Sticker offers up to 72 hours of mosquito protection. However, if the one you're wearing gets wet, torn, or falls off... just pop on a new one.
What is the resealable pouch for?
Squito Stickers come in resealable pouches to ensure freshness and protection. Always make sure to reseal the pouch after opening to maintain the stickers potency.
How many stickers does each pack contain?
Each sticker sheet comes with 6 Squito Stickers wrapped in individual pouches and each box contains 13 sheets. (That's a total of 78 stickers per box!.)
What if I'm not happy with it? What is your return policy?

If your experience with BugMD Squito Stickers has been less than satisfactory, don't worry. We offer 30-day protection on all orders. Simply contact our dedicated customer service team for a fast, hassle-free return.
How long does it take for BugMD Squito Stickers to arrive

All U.S. orders ship in 5-8 business days from our warehouse!
Sources:
1. United States, Congress, Environmental Protection And Toxic Substances . R.E.D. FACTS Oil of Citronella, Agency(7508W), 1997.Bond, C.; Buhl, K.;
2. Stone, D. 2013. Citronella General Fact Sheet; National Pesticide Information Center, Oregon State University Extension Services.