How to Get Rid of Nasty Flies Fast
Nothing is worse than having a home filled with disgusting, disease-spreading flies.
Unfortunately, flying bugs are one of the most common household pests.
Why? Because they breed so fast, a single fly can turn into a thousand in just 1 month! 1
With that in mind, here are a few reasons flies infiltrate homes:
---
Why Do Flying Bugs Invade Your Home?
Here's some of the main causes of flying bug infestations:
They seek warm places.

The eggs that an adult fly lays have specific conditions in which they survive and grow into a larva. This is why flies are more prevalent during spring and summer months.

Unexpected food sources.

Flies will eat and lay eggs on whatever they can find — In fact, they're been known to eat garbage, expired food, pet dander, and even human waste!

Easy Entry Points.

Poor sanitation, ripped screens, and unsealed cracks in windows and doors can lead to flying bug infestations of all kinds.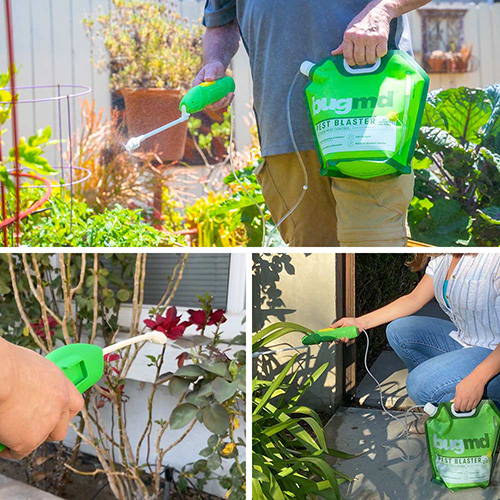 The Best Bed Bug Solutions Are Arleady Here
Real families. Real results.
Don't take it from us. Here's what BugMD customers have to say:

BugMD was miraculous! I had tried many things in an attempt to get rid of roaches, including a very expensive exterminator. I didn't really expect it to work, as the infestation had gone on for almost a year and nothing worked. I can still hardly believe it, but the little (and not so little) brown ones are GONE!! Thank you, BugMD!!
---
Barrett C. - Verified Buyer

Our home was full of roaches and bed bugs. We spent a lot of money on exterminators and store products. Nothing helped, we were ready to move out… Until I saw the ad for BugMD. I'm in near tears writing this. We haven't seen a single roach or bed bug in weeks. It feels great sleeping in peace again. And wow, wonderful fragrance. I can't give this product 5 stars. It's 100 stars for us.
---
Sharon D. - Verified Buyer
BugMD: Safe* for Families, Bad for Bugs
SOURCES:
1. C, K. (2022). 5 Reasons Your House is Infested with So Many House Flies | Solutions Pest & Lawn. Retrieved 17 May 2022, from https://www.solutionsstores.com/5-reasons-your-house-is-infested-with-so-many-house-flies