How to Get Clear Out Fleas Fast
Fleas are the last thing you want invading your personal space.
The bad news is, fleas are the most common parasite found on furry animals like cats and dogs. 1
And besides being itchy and annoying, they can actually carry some scary diseases… 2
With that in mind, here's a few causes of household flea infestations:
---
What Can Lead to a Flea Infestation?
"Hitchhiking" On Pets.

Fleas may hop onto your pet's coat from another pet or from infested dirt or grass outdoors. Once pets come inside, fleas can easily jump onto carpets and furniture.

Rodents In/Around The Home.

Even if you don't have rodents inside, flea-infested rodents can cause lawns and landscaping to become a flea "free for all."

Unknown Reproduction.

Fleas can reproduce incredibly fast. If you don't catch them in time, more fleas can infest your home — especially in bedding, furniture, or cracks in the floor.

Warm, Damp Areas.

Fleas thrive in warm, moist places. While infestations tend to be worse in the Summer, fleas may be more attracted to your home in the Winter.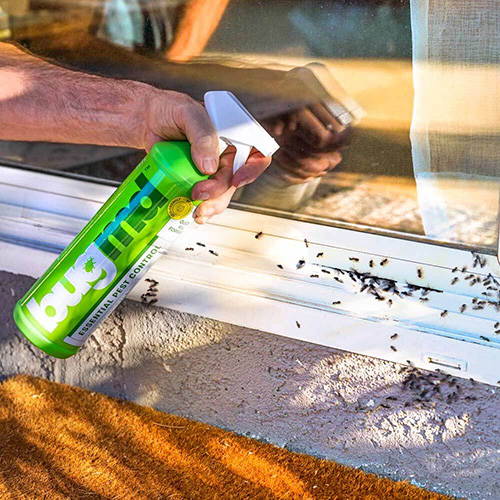 The Best Bed Bug Solutions Are Arleady Here
Real families. Real results.
Don't take it from us. Here's what BugMD customers have to say:

It's a very useful device. Not only does it attract fleas and other insects (like fruit flies that show up after a grocery delivery)... it's also a great way to monitor any remaining fleas or new infestations. I have two of these.
---
Beth M. - Verified Buyer

It took a week for the trap to show the results... but show they did. Luckily it turned out to be clover mites, but nevertheless they are very annoying.
---
Sherrie P. - Verified Buyer
BugMD: Safe* for Families, Bad for Bugs
SOURCES:
1. Fleas 101: Information On Types of Fleas & Flea Control. Pestworld.org. https://www.pestworld.org/news-hub/pest-articles/fleas-101/. Published 2022. 2. Ibid.